When you think about the impact telemedicine has on individuals throughout the life cycle, it's no secret that this technology is revolutionary in this day and age and is becoming more frequently used and respected. From infancy and teen care to aiding older adults, the advantages of telehealth benefit  every age group.
As the final staple in our Telemedicine in Life Stages series, this article will dive into the next stage of life, elderly care, and the role telemedicine plays in the care continuum. We'll discuss diseases and conditions that are most commonly faced by elders, as well as the impact telehealth has on transforming the patient care models at long-term care facilities.
Greater access to specialty care
In part 3 of our series, we touched on dementia and the impact early onset has on middle-aged adults. The statistics are more severe for the elderly, however – the Alzheimer's Association reported that 1 in 10 people aged 65 and older have Alzheimer's.
Telemedicine can be especially beneficial to older adults who need regular assistance. Instead of traveling a great distance to see a specialist, they can head to a nearby clinic to receive complementary care via telehealth. This eliminates the stress that comes with travel and enables seniors to feel more comfortable by seeking care near home.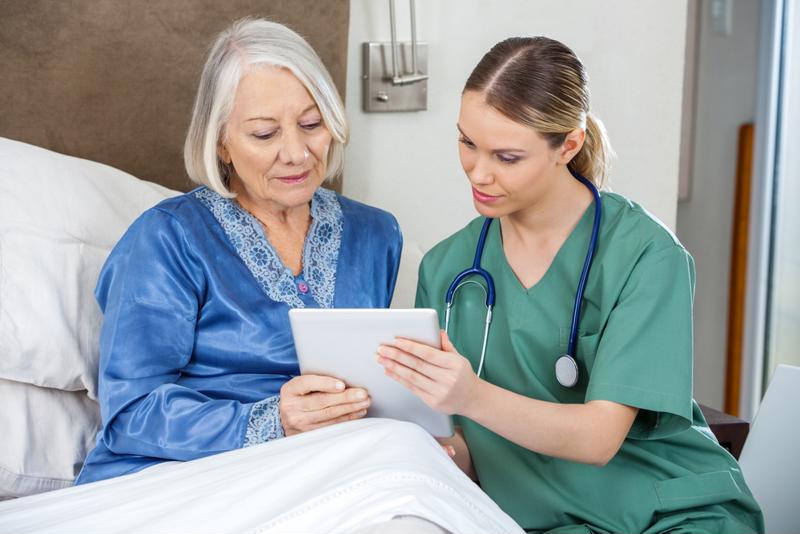 Older adults can connect with specialists via telemedicine.
The same goes for other needs for specialty care. According to the National Council on Aging, about 80% of the elderly population live with at least one chronic condition, 77% reportedly have at least two diseases. Diabetes, arthritis, cataracts, glaucoma and kidney issues are among the common conditions faced by the elderly population. Those who have cases severe enough to seek assistance from a specialist may find it more difficult when there's a travel barrier. Telemedicine enables greater access to specialty care by offering a telehealth conference with a specialist in a nearby clinic.
Telemedicine in long-term care facilities
For some older adults, chronic conditions can become so severe or potentially life-threatening that the need to stay in a long-term care facility arises. With this style of facility comes constant discharge, readmission and new admission, however, which can cause a lack in coordination of care. If there's an issue that cannot be taken care of within the facility, for example, staff members may discharge a patient and send them to a hospital or skilled facility to address the problem – only to readmit said patient after the condition is considered under control again.
Using telemedicine in long-term care facilities improves the model of care and patient outcomes. Instead of sending a patient back to the hospital for a change of condition, nurses and medical staff members can use a telehealth consult to connect with a specialist and address questions or concerns in regard to a disease or condition. This keeps the patient in the facility which reduces readmissions and can improve overall patient satisfaction. Immediate access to care is the most important and beneficial aspect of telemedicine in long-term care settings. When aging adults are in need of specialty care, too long of a wait time can be detrimental to health. Fast response times are necessary, and telemedicine can gain elderly adults quick access to the care they need as soon as possible.
Aging in place
When it comes to growing older, most adults agree that aging in place is the optimal choice. For many, there's comfort in staying in a longtime home over downsizing and living in a nursing facility instead. However, the issue with access to necessary care comes to light when seniors prefer to stay in their homes. Telemedicine has the ability to honor the idea of aging in place – older adults can receive specialty care at a nearby clinic instead of uprooting their entire life from their homes. This reduces the stress that can come with aging and can improve the overall satisfaction of life for older adults.
Telemedicine enables elderly adults to receive the care they need when common barriers get in the way. With a virtual care model, your organization can assist elderly adults in a timely, efficient manner and help them make better-informed decisions towards a healthier and happier way of life. If you're interested in improving patient satisfaction and increasing continuity of care, contact AMD Global Telemedicine today. We have a telehealth solution for you.
Interested in learning more about geriatric telemedicine? Keep up with our blog!
Related Articles